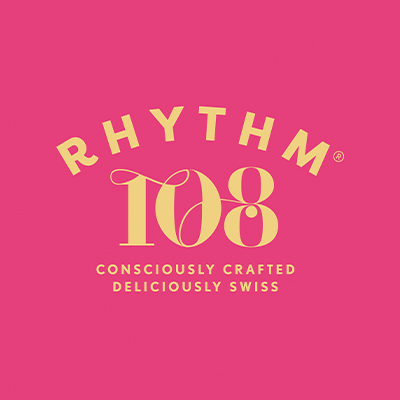 Rhythm 108
Rhythm 108 make confectionery bars using Swiss chocolate.
Rhythm 108's range of vegan, organic and gluten-free chocolates, biscuits and cookies are hand-crafted by world-class pâtissiers and chocolatiers. Combining traditional artisan methods with contemporary nutritional wisdom they create great tasting treats that are consciously crafted and deliciously Swiss.
With a beautiful new design that reflects the product quality, their biscuit share bags, soft-baked filled cookies and 100g chocolate bars are wrapped in sustainable, low waste packaging that reflects the brand's ethics. Rhythm 108's range is better for you and better for the planet.
Rhythm 108's range also has the highest repeat rate in the Free From confectionery category. Their range includes hero products such as the Hazelnut Truffle Chocolate Bar 100g, boasting a category-leading 77% repeat rate, and the Hazelnut Praline Bar 33g which is the number 1 seller in the Free From category.
Why stock Rhythm 108?
Swiss vegan chocolate bars and biscuits that are made slowly and by hand by talented pâtissiers in a little Swiss bakery, nestled in the foothills of the Alps.

Their full range is made from organic, gluten-free and plant-based ingredients that don't compromise on taste or flavour. They also use less sugar and wrap the majority of their treats in sustainable packaging, promoting lower wastage.

By championing taste and quality, they ensure that those who are currently following, or looking to follow a plant-based or gluten-free diet can find delicious treats without having to compromise on indulgence or taste.