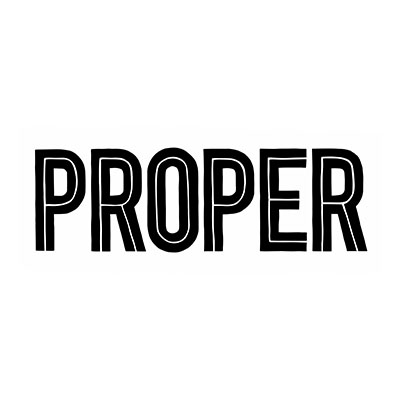 Proper
Founded in 2011 by Cassandra Stavrou and Ryan Kohn, Proper has quickly emerged as the UK's leading independent snack brand.
Attributes
Ambient
Midlands, East Anglia
B-corporations
Prior to launching its new Properchips, the colourful snack maker was best known for its award-winning collection of popcorn. Starting out by tumbling popcorn in a refashioned cement mixer, its passionate London-based team have grown from kitchen start-up to global snack favourite in less than eight years. Its popcorn flavours include classic Lightly Sea Salted and Sweet & Salty, as well as trend-setting Peanut Butter & Almond and Sun-Dried Tomato & Chilli. Proper recently launched the UK's first palm oil free Microwave popcorn and a range dedicated to Kids. Suitable for vegetarians and gluten-free, all its snack recipes are created by their team using delicious natural seasonings and the best quality ingredients.