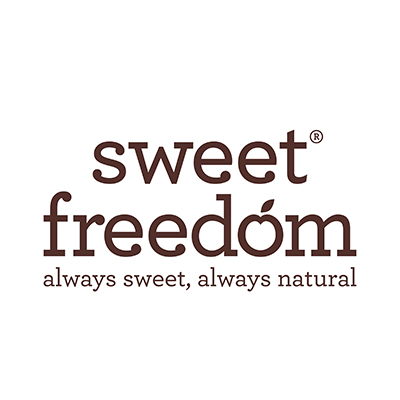 Sweet Freedom
100% natural fruit syrup, liquid chocolate, chocolate spread and milkshake makers.
The Sweet Freedom story can be found here: https://www.sweetfreedom.co.uk/our-story/ Two best friends, both passionate foodies and eagle eyed researchers
Penned the first healthy eating low GL (glycaemic load) books worldwide with Harper Collins
We wanted natural sweetness for our recipes and nothing fitted our criteria… so we created our own all natural FRUIT SYRUP – the first made 100% from fruit worldwide
After successful launch into health food stores and supermarkets throughout the UK we expanded our range to include CHOC SHOT liquid chocolate – again a first to market product and now listed in all major UK supermarkets (4 varieties currently)
Our next hugely innovative addition to the family, CHOC POT is the first chocolate spread to market with no refined sugar (sweetened with our own FRUIT SYRUP), and no palm oil.
Further delicious additions to the animal family include CHOC SHAKES, FLAVOURED SYRUPS, GOLDEN SYRUP and LIGHT SYRUP.
Fruit Syrup – the Great Taste Award winning 'Intel inside' all our products that our founders developed as the first natural sweetening syrup made 100% from fruit! It is hugely popular as an alternative to agave (much lower in fructose), maple syrup (expensive) as well as honey (not vegan), and other sugary syrups.
Choc Shot liquid chocolate – this is perfect for hot chocolate and drizzling over porridge/oats, pancakes/waffles, ice cream, yoghurt, fruit and much more.
Unique features


Great Taste Award winning brand
Healthy everyday indulgence
Sweetened only with fruit (apples, grapes and carob)
Vegan (Registered with the UK Vegan Society)
NO palm oil
NO GMOs
NO refined sugar
Source of / high in fibre
Made in the UK