Sea Glass Gin
Deerness Distillery spirits are a must try if you're looking for an exclusive premium gin or vodka
Spontaneous, self-sufficient, and with a little spirit thrown in for good measure, that's Stuart and Adelle Brown, founders of Deerness Distillery – Orkney's first distillery for over 130 years. It is here that they produce the multi-award winning Sea Glass Gin, new Scuttled Gin and the Islands only distilled vodka. From their purpose-built distillery at the side of their home in Deerness, Orkney they launched their products Sea Glass Gin and Into the Wild Vodka – back in May 2017, after a year of construction and product development. The distillery boasts a beautiful shop as well as tours and tastings of their spirits. Plans are afoot for a café and extending their spirits with a small batch rum and small batch whisky.
https://www.youtube.com/watch?v=LwxokqHvUYw
https://www.youtube.com/watch?v=yxDWD2C-evs Deerness Distillery and some Orkney fiddle playing!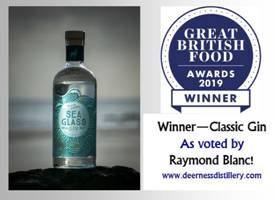 "Very interesting on the nose with elements of minerals, salt, sea herbs and hints of fennel and wheatgrass. This was the most interesting gin out of the lot."