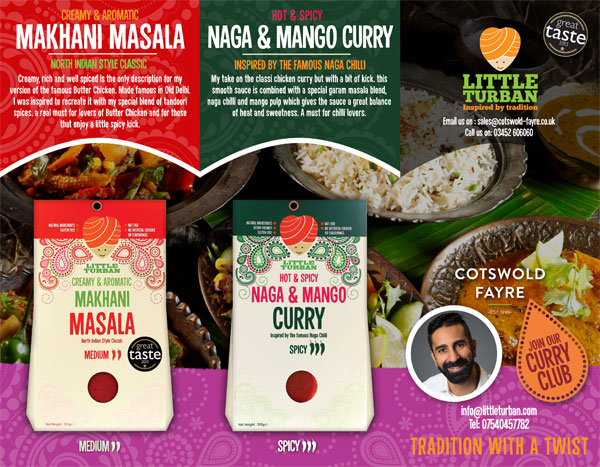 CREAMY & AROMATIC
MAKHANI MASALA
NORTH INDIAN STYLE CLASSIC
Creamy, rich and well spiced is the only description for my version of the famous Butter Chicken.
Made famous in Old Delhi. I was inspired to recreate it with my special blend of tandoori spices.
A real must for lovers of Butter Chicken and for those that enjoy a little spicy kick.
HOT & SPICY
NAGA & MANGO CURRY
INSPIRED BY THE FAMOUS NAGA CHILLI

My take on the classi chicken curry but with a bit of kick. this smooth sauce is combined with a special garam masala blend, naga chilli and mango pulp which gives the sauce a great balance of heat and sweetness.
A must for chilli lovers.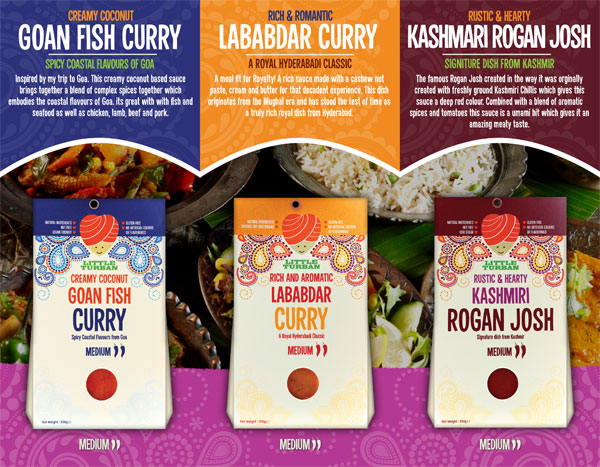 CREAMY COCONUT
GOAN FISH CURRY
SPICY COASTAL FLAVOURS OF GOA

Inspired by my trip to Goa. This creamy coconut based sauce brings together
a blend of complex spices together which embodies the coastal flavours of Goa.
It's great with with fish and seafood as well as chicken, lamb, beef and pork.
RICH & ROMANTIC
LABABDAR CURRY
INSPIRED BY THE FAMOUS NAGA CHILLI

A meal fit for Royalty! A rich sauce made with a cashew nut paste, cream and butter for that decadent experience.
This dish originates from the Mughal era and has stood the test of time as a truly rich royal dish from Hyderabad.
RUSTIC & HEARTY
KASHMARI ROGAN JOSH
SIGNITURE A DISH FROM KASHMIR

The famous Rogan Josh created in the way it was orginally created with freshly ground Kashmiri Chillis
which gives this sauce a deep red colour. Combined with a blend of aromatic spices and tomatoes
this sauce is a umami hit which gives it an amazing meaty taste.